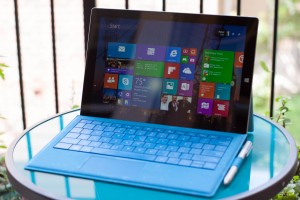 After one month of use, it's time I write up my thoughts on the Surface Pro 3. I have two main uses for the device. First as a replacement for my iPad when sitting on the couch. Second as a replacement for my MacBook Air while out of the office, primarily in meetings to take notes or at coffee shops to write blogs, chat with people and do some light coding.
Rather than discuss the features of the device as most reviews do, I'll just cover what I like and dislike about the device after a month of use. To put this review in perspective. I purchased a Surface RT when they were first released and I was extremely disappointed. I ended up using it for about 15 hours before giving up. My main concerns where the lack of apps (not being a full Windows machine) and also the type cover which I found difficult to use and only gave me about 50% of my maximum typing speed.
PROS
Firstly, what I like about the device. I have been pleasantly surprised by much of the Surface Pro 3 and this is why it has replaced multiple devices in my home office.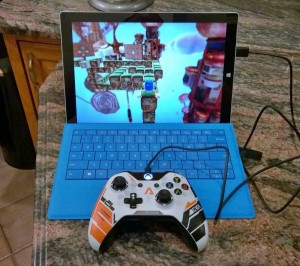 iPad Replacement – The SP3 runs most apps I have on my iPad and whole bunch more. I can play Hearthstone on it and it feels just like the iPad version. With the Smart Cover removed or folded back it's like 75% of an iPad in terms of functionality and feel. The ability to plug an XBox 360 controller in to play games is a big draw card vs the restrictions of an iPad (and Android tablets). Gaming on a tablet with a controller is a great alternative to the virtual thumbsticks forced onto us by many games. The real proof as an iPad replacement is that I haven't touched my iPad since getting my SP3.
Laptop Replacement – Many people compare the SP3 to the MacBook Air and I think this is a legitimate replacement. It's running a full version of Windows so it's really also a replacement for a regular Windows laptop/notebook/netbook. With a USB port and mini displayport you can plug most peripherals into the device as you would a regular laptop. It would be great if there was a second USB, but so far I've only had the need for one at a time. Again, the real proof is in the fact I haven't touched my MacBook (Pro or Air) since getting this device.
Type Cover – If you buy an SP3, make sure you get the Type Cover with it. If you don't the device can really only reach 40% of its potential and I would recommend sticking with an iPad.
The Type Cover is a dream to work with. If the iPad has a smart cover, then the SP3 has a genius cover. The Type Cover can be used in two configurations making it even more accessible than a regular laptop keyboard. I tend to have it in the raised position which seems to fit the way my hands lay while the device is on my lap. Connecting the Type Cover into the Surface has a satisfying, heavy click to it and it feels extremely secure, unlike the iPad's smart cover. The trackpad is close to the quality of the MacBook Air and a little smaller. The backlit keyboard works really well as the device can be used anywhere, often away from a good light source. Most importantly, I've found my typing speed is about 90% of my regular typing speed at my main PC. I achieved 96 words per minute on the Surface Pro 3, sitting on the couch with my legs up (compared to 107 wpm on my main PC).
The great side effect of the Touch Cover being a simple keyboard is that any heat generated by the device (and there is some, see below) is not resting on your legs. The SP3 itself is elevated off your legs/table when using the kickstand allowing the best dissipation of heat.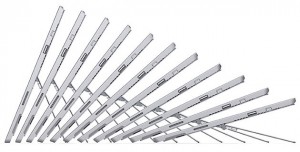 Kickstand – The kickstand in the original Surface RT was terrible. The pre-set positions seemed to always be just off perfect and it was one of the main reasons I couldn't use it. The SP3 kickstand though is a thing of beauty. It has no pre-set positions so you can move it to whichever position you like. This works perfectly no matter where you are using it. I just hold the device and position it until my reflection is perfectly in the center of the screen. I then shift the kickstand into position and it stays exactly where I want it no matter how long I use the device. The movement is firm enough that it doesn't move out of place even when moving around, taking it off my lap to get something and replacing it once finished.
One of the biggest benefits comes from touch screen usage. While the ultimate touch input is done in "iPad mode" without the Type Cover or with it folded back, I still find myself using the touch screen when in "laptop mode". Unlike many touch screen laptops though, the device is rock solid while tapping all over the screen, no matter how hard you press. This is one of my pet hates of modern touchscreen laptops as touching the screen often lifts the device up off your lap or the table, or worse changes the tilt of the screen. The design of the kickstand stops this from happening entirely. The force of taps are distributed down the kickstand itself and due to it's angle there is no way the device can move.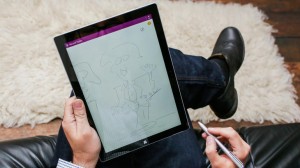 The Pen – The main reason I purchased the SP3 over competitors was so I could draw directly onto the screen. I have a wacom tablet and while it's good, there's something to be said for drawing directly on the display itself. While I'm no artist, I do find this ability makes the device stand out from everything else on the market other than the high end "draw on the screen" devices I have seen in some game studios. However for a portable device, this is hands down the best I've seen. It has great pressure sensitivity in apps that support it such as Photoshop, however a few apps I tried didn't support it well, but hopefully this can be solved in the future.
A final cool thing about the pen is the "click button" at the top. Clicking this brings up One Note and lets you instantly draw on the device like it's a note pad. I have yet to create the Mona Lisa with it, but it's great for showing off the device and I can see a use for people with any artistic ability or for quickly drawing diagrams.
Windows 8 – The device comes with all the advantages you expect from Windows 8. You have the full ecosystem of applications that run on Windows 8, from Steam to Photoshop and development tools. Not having to think about whether "there's an app for that is a real plus and you can leverage all of your existing licenses for software (my entire Steam catalogue, Photoshop, Unity, Visual Studio, etc).
Miscellaneous – Below are a few random thoughts that I like about the device as well:
The weight is light enough to carry around while being heavy enough be used as a touch device. While it's slightly heavier than an iPad, it's lighter than most laptop/netbooks available
The screen is a great resolution and for the most part is as good as I've come to expect from a retina iPad display.
CONS
While the SP3 is a great device, it has some issues, below is my summary
Windows 8 – The biggest issue I have with the SP3 are really issues with Windows 8. These are all minor things, but they are frustrating when they occur and I'd like to see Microsoft resolve them ASAP.
Close, minimize and maximize buttons aren't tall enough so I misclick them about 10% of the time
Some scrolling is not as it should be. Sometimes lifting your finger off the screen abruptly stops the scroll and other times inertia continues the movement. There's also a problem with the scrolling not working at all, requiring a few retries to get it working
The new start bar in Windows 8 is supposedly built for touch devices. It's frustrating to use on a regular (non-touch) PC and I find it isn't much better on a touchscreen device. While it's cool to scroll around, I still just can't get used to it and rarely find it helpful
Miscellaneous
While the kickstand is awesome in 95% of situations, the one issue I have with it is how sharp it can be if you are wearing shorts. It's not enough to cut you but it can get uncomfortable after extensive use.
In Chrome, tapping somewhere in a document (eg Google Docs) brings up the virtual keyboard even if I'm using the Type Cover. This is annoying when navigating around the doc. I am not sure if this is a bug or not, but it should be solvable by requiring a second click before bringing up the virtual keyboard.
With the Type Cover elevated, the start bar applications are a little hard to press
The holder for the pen came separate from the Type Cover and I had to stick it on myself. This is prone to error and felt a little tacky. I also think it looks suboptimal compared to being seamlessly build-in.
Occasionally the device heats up which is only an issue if you are using it in "tablet mode" without the Type Cover. This is by no means a negative in day-to-day use but it slightly concerns me. While it's not enough to burn anyone, I would still have liked it to be more like an iPad than an overheating laptop.
Along with the heating up is the fan that cools the device. While it's not excessively loud, it is annoying. I find it keeps turning on while watching YouTube video's which is annoying as I often have them on quietly and have to turn them up to hear.
Out of the box I couldn't connect to my iPhone as a personal hotspot. I had to install a bunch of Windows updates before it would see the device and connect. Once that was done though, it connected without an issue every time
There are slight light bleeding issues at the bottom of the screen. This is especially noticeable on black screens which unfortunately includes the the initial Surface startup screen which is the first thing you see when using the device.
Conclusion
So all in all I am a huge fan of the Surface Pro 3. It's replaced both my iPad and my MacBook's and I can't see me going back to them any time soon. While there are issues, the majority of them are software based and therefore can be fixed in time. I have a game jam coming up and I'm going to try building a game in Unity using nothing but my SP3, I'll report back on my findings.
Have you tried the Surface Pro 3? Can you see yourself replacing your existing tablet and/or laptop with it?