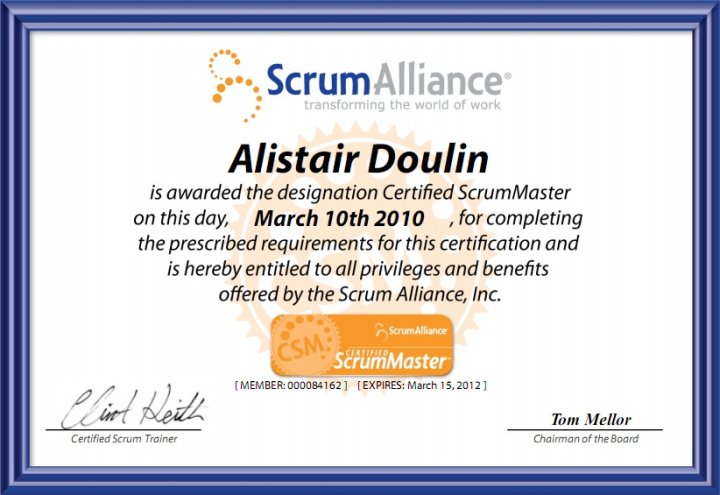 In the days leading up to GDC this year Clinton Keith held a ScrumMaster course specifically for video game development.  I attended the course and in this blog post I share my experiences with a brief review for anyone thinking of attending or sending some of their developers to attend.
The course runs over two full days and was the first course of this length where I didn't fall asleep.  The content was of a high quality and was kept interesting with lots of interactive tasks and small group discussions.  Clinton began with a great overview of Scrum and then dug deep in to the details, explaining all concepts in great detail, without bogging down in minutiae.  While there was a slight programmer emphasis he covered all facets of game development.
Clinton has a lot of experience with general game development and is a pioneer with implementing Scrum in game development.  His stories were not only interesting but served as a great way to show how Scrum is being used in the real world.  He has worked with some big studios including CCP (creators of Eve Online) and Bioware.  This gives him both credibility and a great insight into how large companies have made successful games using Scrum.
The last part of the second day was spent simulating a handful of sprints to get a feel for how the interactions worked between ScrumMaster, product owner and the team.  The use of lego to create a small world was surprisingly similar to software development and served as a great way to simulate a small development cycle.  This brought the whole group together and let them experience the realities of working with Scrum in a group of people.  It allowed us to put into practice what had been learnt over the past two days.
An obvious benefit is the certification received at the end of the course.  However more important was the knowledge gained during the course.  I had a fairly good understanding of Scrum before the course however this helped to fill all the holes and even correct a number of misconceptions I had.  There are a lot of resources on the net and in books that can teach the basics of Scrum however I found that the interactive and hands-on nature of the course taught me things I would never have picked up through reading or trying to implement Scrum in a vacuum within my own team.  This is the primary reason I would recommend the course to anyone looking to adopt Scrum in the software development team.  Most people admitted to using a "version" of Scrum which by the end of the course proved to not have some of the essential ingredients.
One of the great points of the course was the high level of interactivity.  We could ask questions at any time (which people did) and Clinton would often integrate his answer into the rest of his talk give context rather than a simple answer.  He was happy to answer the hard questions about Scrum including where it has its problems and where we are likely to run into trouble.
I highly recommend the course to any lead's or project managers.  While the cost of $1500 is fairly high (it's the standard cost of any ScrumMaster course) it pays for itself in the payoffs you will experience within your team.  It's an enjoyable two days where a lot is learnt and most will be inspired to fix the problems with the way their teams are managed.
Have you participated in a certified ScrumMaster course?  Have you attended one of Clinton's courses or talks?  What do you think of Scrum and its relevance to video game development?